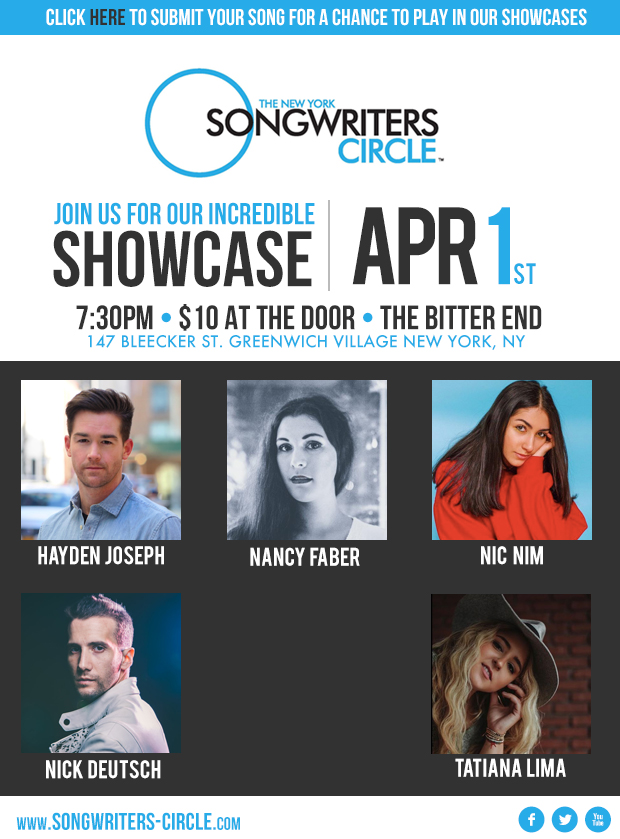 Join us this April fools day for some of NYC's best talent!
The evening will feature
Nic Nim Music
Follow her: Nicole Nimroody
Hayden Joseph Music
Though a relative newcomer to the industry, this South Carolina native turned New York City dreamer has quickly begun making a name for himself at many of NYC's most established live music venues, capturing audiences with his Southern Charm, relatable lyrics, and unique Country-Pop inspired sound. From grade school talent shows to Vanderbilt University a 'Capella performances to today's live acoustic sets, Hayden has put his heart and soul into music for his entire life. Look for his debut single on major streaming services in with coming weeks, with his first EP is due later this year.
Follow Him:
Instagram: HaydenJosephMusic
Twitter: twitter.com/HaydenJoseph94
Facebook: @HaydenJosephMusic
YouTube: www.https://youtube.com/HaydenJosephMusic
Soundcloud: https://www.soundcloud.com/HaydenJosephMusic
Tatiana Lima
This Jersey girl with Brazilian roots was only three years old when her father gave her the gift that would forever change her life, a guitar. Although she did not know it yet, that moment became the catalyst for her passion for music. Her parents recognized the raw talent in her and immediately signed her up for music lessons, which exposed her to many genres that would later influence her as a singer/songwriter and musician.
Her songwriting is fueled by personal growth, self-discovery and acceptance as a result from her passion for human rights. Tatiana's unique songwriting voice attracted Trista Records (a sister company of Magnus Records) who asked her to come on board as a songwriter for its signed artists.
Tatiana has performed at numerous venues and events, in the U.S., Brazil and Spain
Five of her original songs have been featured in the independent film, "The Three Chris." As a notable accomplishment, one of her original songs was submitted to American Idol for the Finale Song in its final season and made the top 20 out of 25,000 entries. Tatiana has worked with producer, Hanan Rubinstein (Birdie Studios, Alicia Keys, and Rita Ora), Mario Sebastian & Erben Perez (JLo and Marc Anthony) and Drew Yowell (MTV Networks).
Nick Deutsch / Nicholas Deutsch
Nick Deutsch (born December 8th, 1986) is a New York-based piano playing indie pop Singer/Songwriter originally from Wilmette Illinois. He has shared the stage with established singer-songwriters Ian Axle, (Great Big World) Billy Porter (Kinky Boots) Rob Mathes (Sting), Lizanne Knott, Andrew Fortier, Ari Zizzo, and Jillette Johnson as well as recorded with American Idol's finalist Marissa Pontecorvo. Songs off his EP's "Crazy Ride and Heartsaver" have led to several awards and placements on nickelodeon's "Jagger Eaton's Mega Life" and TV Land's "Younger". Additionally, his lyrics have been featured twice in American Songwriter Magazine.
Follow Him:
Twitter: https://www.twitter.com/Nick_Deutsch
Instagram: https://www.instagram.com/Nickdeutschmusic
Facebook: https://www.facebook.com/nickdeutschmusic
Nancy Faber –
Nancy Faber is a native New York and is back after a 3-year hiatus in Nashville. She is currently an English major at NYU, however, music is her true passion.
Follow Her:
Instagram @nancyfaber