Ticket Sales – https://bpt.me/4550275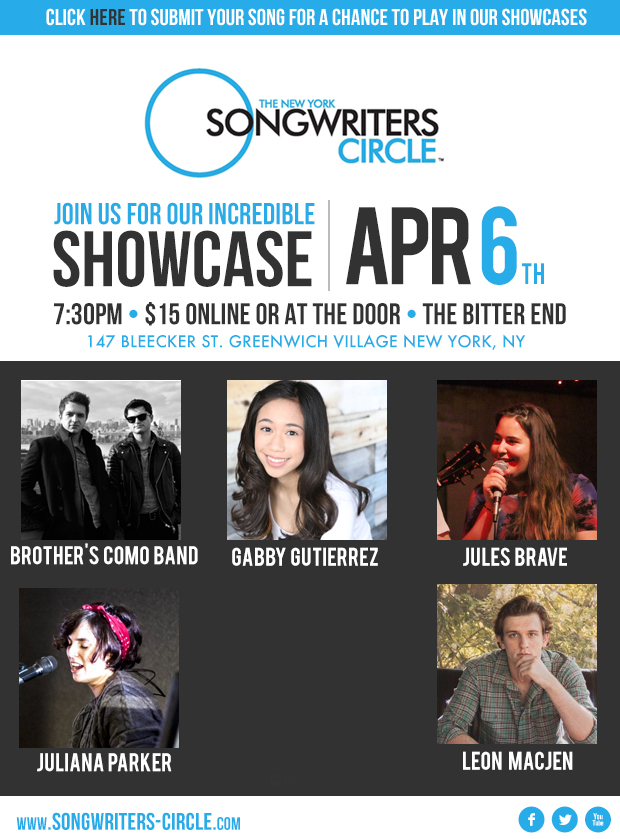 Gabby Alexa Gutierrez
Gabby is so excited to debut her original songs with the legendary NYC singer-songwriter circle in this historic venue. Grateful to Tina Shafer for this amazing opportunity.
Gabby started performing professionally since she was only 7years old. She was in School of Rock the Musical on broadway played Sophie/Katie. Was in 1st and 2nd National tour of Matilda the Musical played the role of Matilda. Grinch stole Christmas in MSG played Annie who. Gabby also appeared in TV shows and commercials. Anthem singer NY Giants game.
Jules Brave
Bio: When heart-wrenching ballads about witnessing the most severe symptoms of heartbreak, and body-positive, enthusiastic, pop-driven earworms emerge from the same brain, you get Jules Brave: a 21-year-old songwriter from New York City who you could spot anywhere with her bright-blue Beats headphones and metallic sneakers. Jules is constantly working on furthering her pianistic technique, vocal skill, and musicianship in order to access the most authentic part of herself and her music. She is humbled and grateful to be recording her debut project this summer, and looks forward to sharing and performing her music in the near future!
Juliana Parker
Juliana Parker was born and raised in Cos Cob, CT on a house blend of classic rock, musical theater, and modern folk music. A keyboard player and vocalist with a flair for the dramatic, she grew up writing songs imitating her favorite artists like Sara Bareilles and Billy Joel. At Berklee College of Music she studied songwriting and performance under her mentors Livingston Taylor and Susan Cattaneo, and after graduating in 2018, she moved to Brooklyn to be where the music is. Her song "Waiting on the Line" feat. Miss Beltran placed runner-up in the Radio Airplay Love Song 2017 Contest. Another original tune, "Rhode Island Roads," was awarded Best Performance in the Berklee Perfect Pitch Competition 2018, and in 2019 she was selected to join the BMI Lehman Engel Musical Theatre Workshop.
The Como Brothers
The Como Brothers, Matt and Andrew Como, are musicians (singers, songwriters and performers) from Long Island who are passionate about their music, heartfelt lyrics, and original music. Combining a pop and rock easy listening sound with a blues vibe, they have written and recorded multiple albums and EPs of original songs.
Leon Majcen
Leon Majcen grew up in the town of Clearwater, Florida. He picked up the guitar at the age of nine and got his start playing open mics at local bars and coffee shops. Naturally inspired by the lyrical genius of artists like Bob Dylan, Johnny Cash and Townes Van Zandt, Leon developed an affinity for songwriting and chose to live life with a pen and paper in hand.
In April of 2016, his single Love and Misery made its way onto SiriusXMs The Coffee House Channel and captured the attention of folk music lovers across North America, helping him build a nationwide fan base. Following a couple of tours in 2018 and 2019, those long hours spent in a van on a cross country journey ended up being the fuel behind the lyrics of his upcoming album, Back till Im Gone, an artistic creation that was recorded with the help of a good friend and producer Andrew Boullianne at Lala Mansion Recording Studio in Tampa, FL.