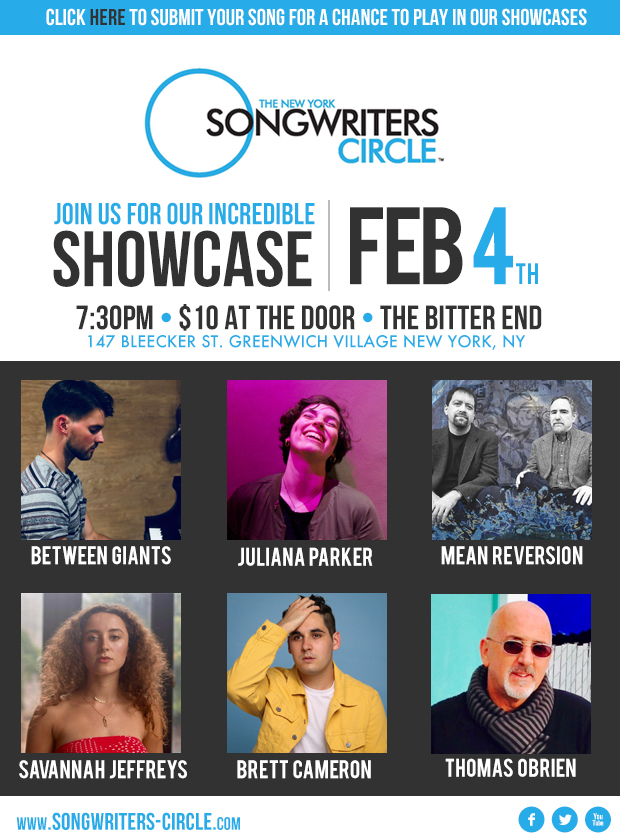 Join us Monday, Feb 4th for our award-winning singer/songwriter series. The evening will feature –
Brett Cameron –
At 23 years old, Brett Cameron is currently working on releasing a string of singles to follow his highly anticipated debut record, 'Mazes' (released summer 2018). His new single 'Feel Alive' combines influences of pop, rock, electronic, and hip hop to take the listener through his journey as he navigates this new chapter.
As for the why? Brett Cameron's music is inspired by others and is used as a means of connecting people together to make something positive and beautiful.
Social Media:
Instagram: https://instagram.com/BrettCameronMusic
Twitter: https://twitter.com/BrettCameronNYC
Spotify: https://open.spotify.com/artist/0VqmWmnrrz202yvFv8Ta3T
Facebook: https://www.facebook.com/BrettCameronMusic
Juliana Parker
With addictive bass lines and poignant, witty lyrics, Juliana's music will keep you spellbound. She combines the sounds of musical theater and rock on piano, reminiscent of Sara Bareilles and Queen. A recent graduate from Berklee College of Music, she is running in all keys blazing.
Follow Her:
twitter – @julianapmusic
Instagram – @julianapmusic
My YouTube channel – https://www.youtube.com/channel/UC8yR2xgr-x1Kzvphtwq_ZgQ
Between Giants
"Between Giants is a three piece indie-rock band from Brooklyn. Their signature gritty coalescence of a multitude of genres has lead them on a 17 city independent east coast tour, 3 Independent Music Award nominations and over 350,000 streams across all platforms. Definitely your co-workers favorite band."
Follow:
Instagram: @BetweenGiantsOfficial
Facebook: /BetweenGiantsFL
Spotify: Between Giants
Twitter: BetweenGiantsNYC
Mean Reversion is the creation of Cliff Hurvich and Foster Provost, a NYC-based songwriting duo with a distinctive "then is now" sound. Mean Reversion melds complex harmonies, captivating melodies, and poetic lyrics into accessible, progressive rock and cinematic songs, produced with Emmy-winning producer Kevin Bents.
Lawless
Thom O'Brien started out a singer/songwriter in Toronto, busked his way hitch-hiking to Alaska, La and Back. His bands have included blues band DogBone and indie rock bands, Whollup, Palooka and currently Lawless.
Follow him – @thomasarchitect
Savannah Jeffreys – is a born-and-bred New Yorker and recent graduate of Wesleyan University. She's been writing original tunes on the piano since she was 8 years old, and now spends her time producing and recording R&B tracks in her bedroom studio. Major influences include Joni Mitchell, Amy Winehouse, SZA, Drake, & Metro Boomin.
Follow her-