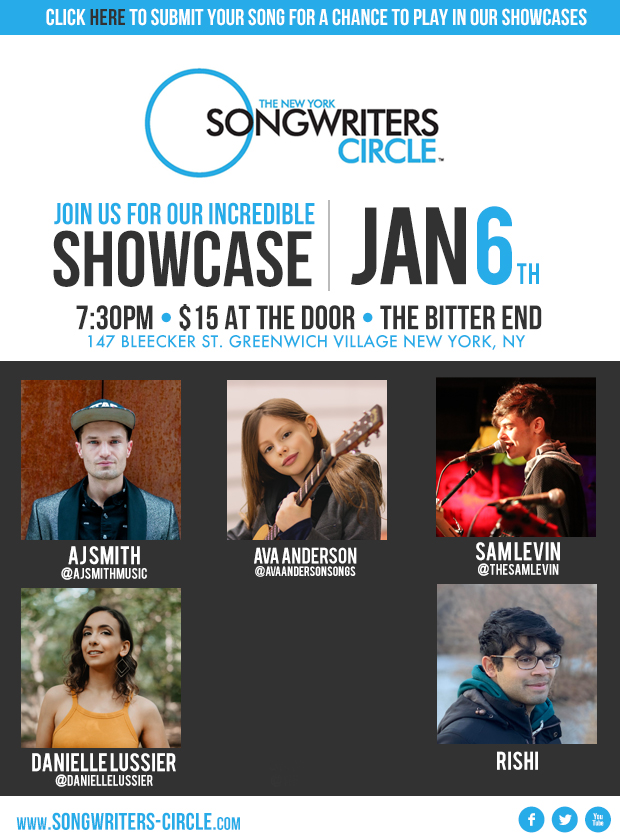 Join us Monday January 6th for our first showcase of 2020! Held at the Historic
The Bitter End
The evening will feature –
Danielle Lussier is a singer/songwriter based in NYC. Her sound is influenced by many of the great female singer/songwriters of our time (Carole King, Sara Bareilles, Alicia Keys, Lady Gaga). Her debut EP "Seasons" was released in August, and can be found anywhere you get your music.
Ava Anderson
Ava Anderson is a 10 year old singer, songwriter, musician, from New York City. Writing original music since age 8, she released her debut album, Unstoppable, in April, 2019. The title track, "Unstoppable", won 1st place in the 2019 USA Songwriting Competition, Children's Category. The closing track, "Broken-Up", was a Pop category semifinalist in the 2019 Song of the Year Songwriting Contest.
Sam Levin –
An amazingly accomplished live performer, songwriter and recording artist who released his first single at age 10, Sam Levin, now 18, released his 3rd album A General Air of Regret and the single Dairy Queen Queen in 2019, and is hard at work on his next album. From the time Sam did his first open mic at age seven, he's performed on many stages, from bars and coffeehouses to community and art festivals and his London Open Mic Tour. In 2018, he toured East Coast coffeehouses from Philly to West Palm Beach and on his 2019 tour, venues from Vancouver to L.A. Sam also took first place last year in the AAA/Alternative category of the 15th annual International Acoustic Music Awards (IAMA). He was the youngest winner since Meghan Trainor won first prize in 2010.
His uniquely eclectic music fuses electronic sensibilities, acoustic experimentation and a varied background in rock, jazz and alternative music to create an unconventional and engaging sound like no other.
AJ Smith
Smith collaborated with GRAMMY-winner producer Scott Jacoby (John Legend, Vampire Weekend) for his 2016 single & EP "Brooklyn Nights", which received airplay on Z100, Eagle 97.7 and DC101 (where DJ Mike Jones compared the track to fun.'s "We Are Young"). He's opened for Lindsey Stirling and Emily Kinney, and performed at Milwaukee Summerfest and Bethlehem MusikFest.
Rishi Srivastava
– Rishi is an up and coming songwriter who is excited to make his debut with the New York Songwriter's Circle. He is currently working on a brand new EP for 2020