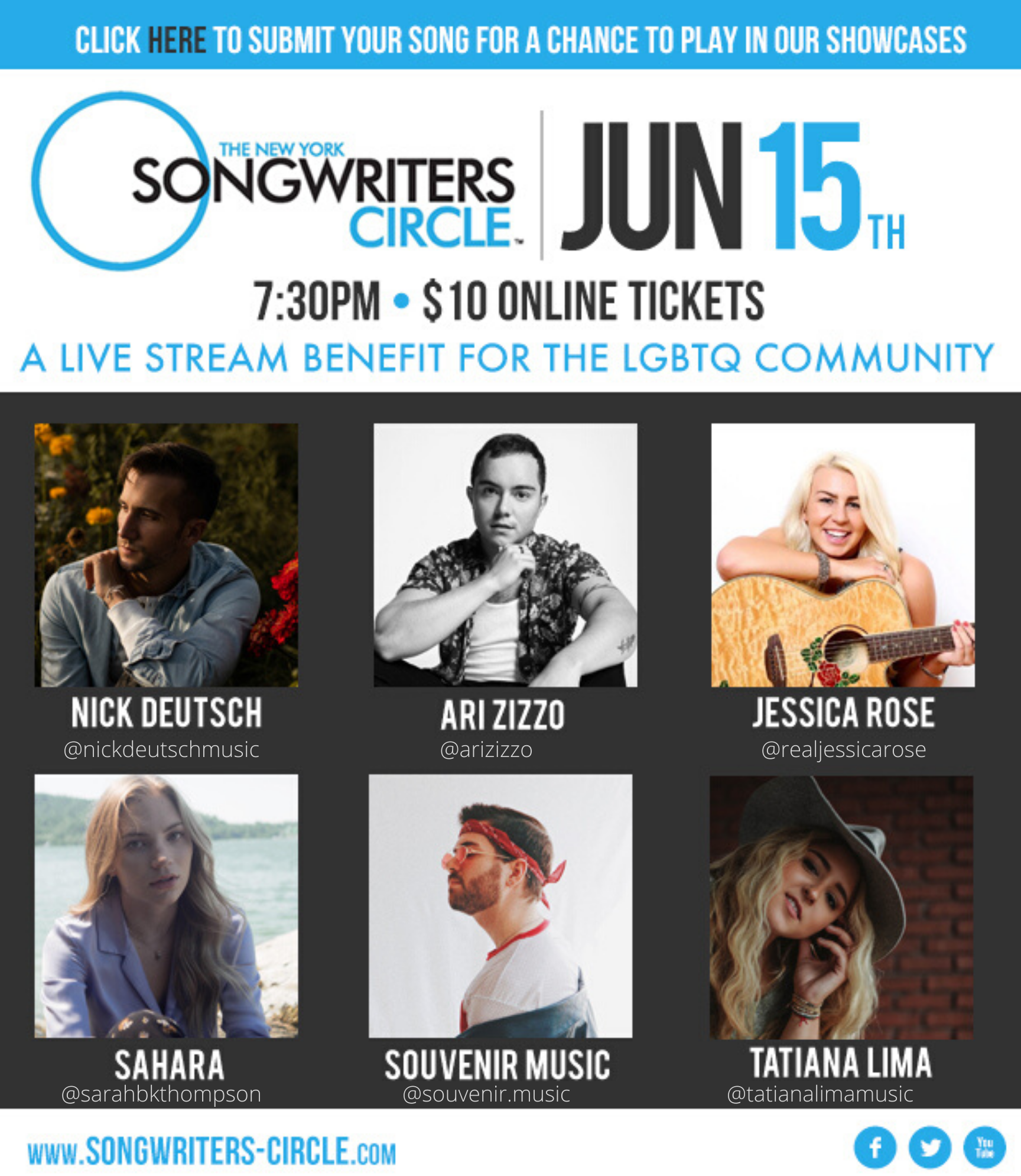 Please Join The New York Songwriter's Circle Online this Pride Month for our annual benefit for the LGBTQ Community.
Purchase tickets This evening will feature
Ari Zizzo is a 23 year old singer-songwriter/producer from NYC, currently living in LA.
He graduated from SUNY Purchase College in 2018 with a Bachelor's degree in music, and has been making music since the tender age of 4. His parents, Tina Shafer & Peter Zizzo, are also songwriters, and have influenced his passion for music his entire life. Ari has played The Bitter End stage since he was 11 years old, and has played The New York Songwriters Circle for 10 years. He has also played shows opening for New Kids On The Block, Emblem 3, AJR Brothers, and MKTO. He currently has 3 new singles out on Spotify, which have generated over 110k combined streams. He is signed to Faculty Management out in LA, who also represent New Kids On The Block, Leah Michelle, and Sabrina Carpenter, to name a few. He is currently pursuing his career as an artist, and is beyond excited to share new music with you at the Circle.
JESSICA ROSE IS A POP/COUNTRY ARTIST BASED OUT OF NASHVILLE, TN AND NEW YORK, NEW YORK. WITH INFLUENCES LIKE CARRIE UNDERWOOD AND JANIS JOPLIN, HER ENERGY, TALENT, AND STAGE PRESENCE HAVE GAINED HER A LOYAL FAN BASE IN TODAYS MUSIC SCENE.
IN ADDITION TO PERFORMING FOR A LOYAL FAN BASE, SOME OF JESSICA'S PERFORMANCE HIGHLIGHTS INCLUDE, OPENING FOR JIMMY BUFFET, RUSSEL DICKERSON, JIMMIE ALLEN, TRACY LAWRENCE, AND TRENT HARMON. JESSICA WAS NAMED AN EMERGING ARTIST BY THE COUNTRY MUSIC ASSOCIATION AND IS PROUD TO BE ENDORSED BY LUNA GUITARS. SHE PERFORMED AT THIS YEARS GRAND OLE OPRY BIRTHDAY BASH AND HAS BEEN AWARDED MANY TITLES FROM WSM ROADSHOW, GRAND OLE OPRY, MUSIC CITY SONGSTAR, AND JOSIE AWARDS. JESSICA WAS THE NASH NEXT 2018 NEW YORK CITY WINNER AND A TOP 10 FINALIST IN THE COMPETITION PUT ON BY MAJOR RECORD LABEL, BIG MACHINE LABEL GROUP AND CUMULUS MEDIA.
Souvenir is the synth pop project of singer/songwriter Michael Fenuccio. Born and raised on Cape Cod, MA, Michael studied pop songwriting in Miami, before moving to Brooklyn in 2018. Since then, he's been performing all over the city with his band at venues such as The Bowery Electric, Rockwood Music Hall, and more. As a gay artist, Michael draws inspiration from acts such as Troye Sivan, MUNA, and George Michael. His brand new single "This Is Not An Exit" is available on May 22nd!
Nick Deutsch is a New York based piano playing indie pop Singer/Songwriter originally from Wilmette Illinois. He studied Jazz Piano and Songwriting at NYU and has performed throughout the US and UK. Songs off his EP's Crazy Ride and Heartsaver have won numerous awards , been licensed on tv and twice been featured in American Songwriter Magazine. He is a proud LGBTQ artist and his new single Talk 2 Me is available May 22nd. For more – www.nickdeutschmusic.com
Singer/songwriter sahara began her musical journey at the age of 16 when writing lyrics and poems became a natural way for her to express unfamiliar emotions. Coming to the realization that she was in fact, very gay (!), was a challenging chapter to navigate, but ultimately led her to discover her talents. Years later, after moving from her hometown of Coquitlam, British Columbia to Toronto, Ontario, sahara wrote and released her debut single, "LVOE". Following the release, she found herself with opportunities to write music for a number of established artists around the globe. The proud LGBTQ artist has lots more in store for her listeners as she continues to turn her personal life stories into powerful music.
This Jersey girl with Brazilian roots was only three years old when her father gave her the gift that would forever change her life, a guitar. Although she did not know it yet, that moment became the catalyst for her passion for music. Her parents recognized the raw talent in her and immediately signed her up for music lessons, which exposed her to many genres that would later influence her as a singer/songwriter and musician.
She has shared the stage with Erben Perez and Mario Sebatian (Marc Anthony and JLo band), Brazilian artists Fagner, and Claudia Leitte, Hanan Rubinstein (Alicia Keys and Rita Ora's band), and T.S. Monk (Thelonious Monk's son), among others.
With her new album, Tatiana wants to tell the world that "no matter what circumstances you are in, you have the ability to overcome it and move forward! Nothing can stop you from achieving your goals." Her main goal is to reach as many people in the world with her music in English, Portuguese, and Spanish.