Join us Monday, March 4th for our award-winning Showcase.
The evening will feature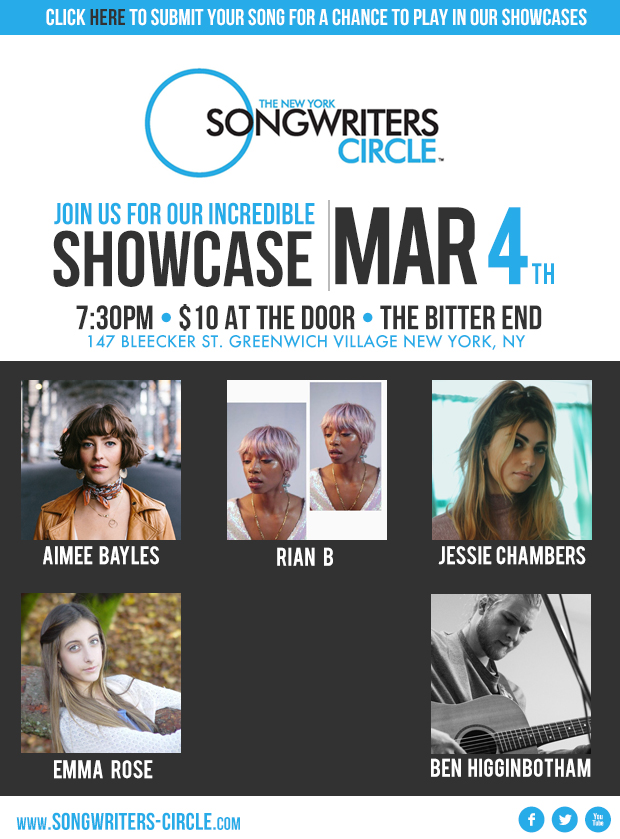 EmRose Music – R&B/ neo-soul artist from San Francisco. She is a songwriter, producer, and vocalist, influenced by everyone from Anita Baker to Tom Misch.
Follow Her –
Instagram – https://www.instagram.com/jessiechambers/
Spotify- https://open.spotify.com/artist/10kZ6WNqUGE1lQLUVisdVF?si=ILln1fa7QUyBEKPsHxDbOg
Apple Music – https://itunes.apple.com/us/artist/jessie-chambers/1402664421
Jessie Chambers – is a singer-songwriter from Hollywood, Florida, currently living in New York City. As a pop music artist, Chambers incorporates elements of dance, electro-pop, & pop-rock into her music. You can find original music from Chambers on Spotify, Apple Music, & more, as well as look forward to new music coming out soon!
Rian B
RianB…is on her way up. She is a driven visionary who has created a sound unlike any other. Her music is of a different breed. However, she has already bee compared to the likes of SZA, H.E.R., Elle Mae, and other young prima talents. What sets her apart is that RianB is the creative mind behind her sound.
Aimee Bayles Music is a singer, songwriter and recording artist based in New York City. Her upcoming release, Enough, showcases a collection of original songs about her life in the city and her rural southern roots. Originally from Virginia, her soulful, vocally-driven music is influenced by an upbringing in southern church music, her training as an opera singer, and learning folk guitar as a teenager. Aimee's sound is inflected with inspiration from Patty Griffin, Gillian Welch, Neil Young, Norah Jones, Dolly Parton and Alison Krauss.
Follow Her –
Instagram @aimeebayles
FB facebook.com/aimeebaylesmusic
Ben Higginbotham – More Details Coming Soon!