Join us Monday, June 3rd for our award-winning New York Songwriter's Circle hosted at the historic Bitter End.
The evening will feature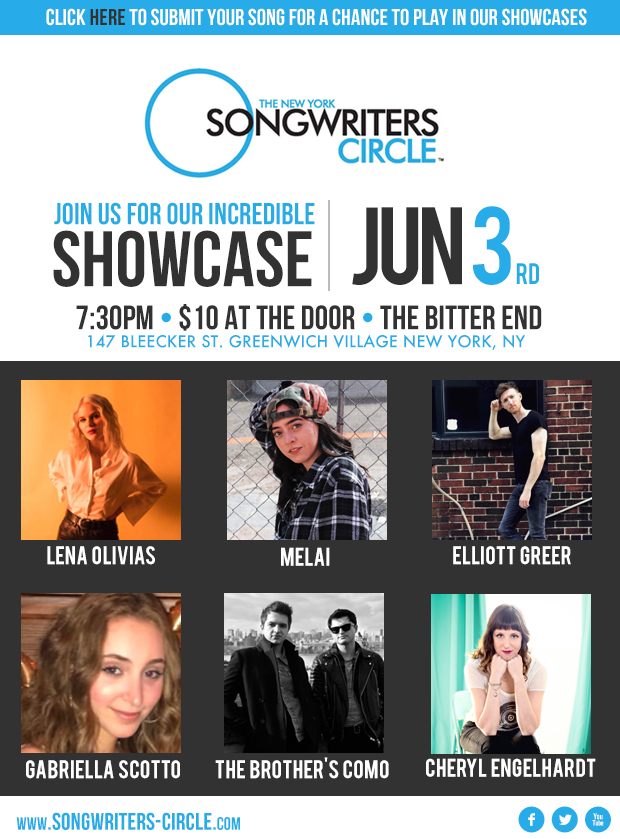 Bio: Lena is an NYC based German-American singer-songwriter. Her genre-bending music draws as much inspiration from '90s alternative as it does from her training as a classical singer. Lena is currently pursuing a BFA at Purchase Conservatory, where she has been working in the studio with her band towards her debut release.
@lenaolivias
Gabriella Scotto
Gabriella is an upcoming junior songwriting major at Belmont University in Nashville and is working towards writing for other artists. She has had a cut from BMG music group in her first year of college and is working on an upcoming EP in the new year.
Instagram: https://www.instagram.com/gabscotto/
The Brothers Como ( Andrew and Matt )
The Como Brothers, Matt and Andrew Como, are musicians (singers, songwriters and performers) from Long Island who are passionate about their music, heartfelt lyrics, and original music. Combining a pop and rock easy listening sound with a blues vibe, they have written and recorded multiple albums and EP's of original songs.
http://www.comobrothersband.com/
https://www.facebook.com/TheComoBrothers/
Cheryl Engelhardt
Cheryl is a composer and singer/songwriter with dozens of film and ad scores, four piano-pop albums, 20 tours, and 40+ TV placements under her belt. She also supports musicians in crafting their ideal careers through resources as a consultant and on her site, In The Key Of Success. She's currently writing a choral suite and a Broadway musical.
Facebook and Instagram: @cbemusic,
Website: cbemusic.com
Elliot Greer
Elliot grew up in Stirling, Scotland and moved to NYC eight years ago to study music and musical theater. His interests include donuts, fitness, and watching John Mayer's Instagram stories. He was discovered on a warm Monday in June 2019 when he first played for the NYC Songwriters Circle.
Instagram @ elliot_Greer
Melai
Melai is a 17 year old singer-songwriter from Westchester New York. Writing since the age of 12, she has grown to learn that music has the power to make positive change both in individuals and in communities as a whole. In her free time she uses her love of music to volunteer with disabled teenagers and teach the importance of mental health awareness in her high school.