1. Lizanne Knott is a multi-award winning singer-songwriter from Northwestern Pennsylvania. She has performed at some of the most prestigious listening rooms, theaters and festivals throughout the UK, Ireland and Spain and continues to produce critically acclaimed records with a new one due out this Fall.
Follow Her – https://www.lizanneknott.com/
2. Ciara Grace grew up surrounded by music. She spent much of her formative years in a studio with some of the top most session players as mentors. It's no wonder that by the young age of 15, she was already churning out songs to make even the most seasoned songwriters envious. Ciara will be recording her debut CD this summer, produced by her father, Grammy Award winner, Glenn Barratt.
3. Who is CityCountry? Entertainment veteran Greg Raposo joins forces with New York's Premier Celebrity Doctor Ed Kulich to prove that against all odds their NYC grass roots country music can still be grown from the cracks of their concrete jungle.
Follow them –
soundcloud.com/citycountry
reverbnation.com/citycountry
facebook.com/citycountymusic
4. Sahara – "I've been singing and songwriting for about three years now, usually found performing in a bedroom, closet, or your nearest stairwell! I'm thrilled to be branching out and gaining experience playing live while my studio projects are in the works. My debut EP, titled "365," will be available for download on all platforms later this summer!"
Follow her – @sarahbkthompson
5. Josh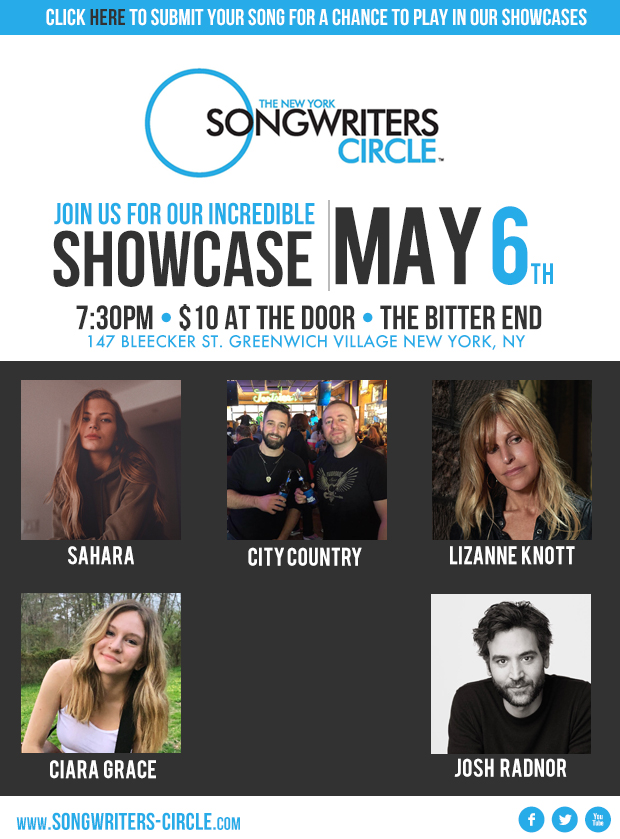 Radnor
For the last five years Josh has been writing and recording songs with Aussie singer-songwriter Ben Lee as "Radnor & Lee." Their self-titled debut album was released in late 2017 and they've just finished recording their follow-up. With R&L, Josh has toured South America, Australia, and the U.S. He is also an actor, writer, and director.
Follow him – https://open.spotify.com/track/4I8PdctXvAX3ALguZE510Q?si=_vl4TP1HSZmMXnGZsGmDWQ
Instagram: Joshradnor