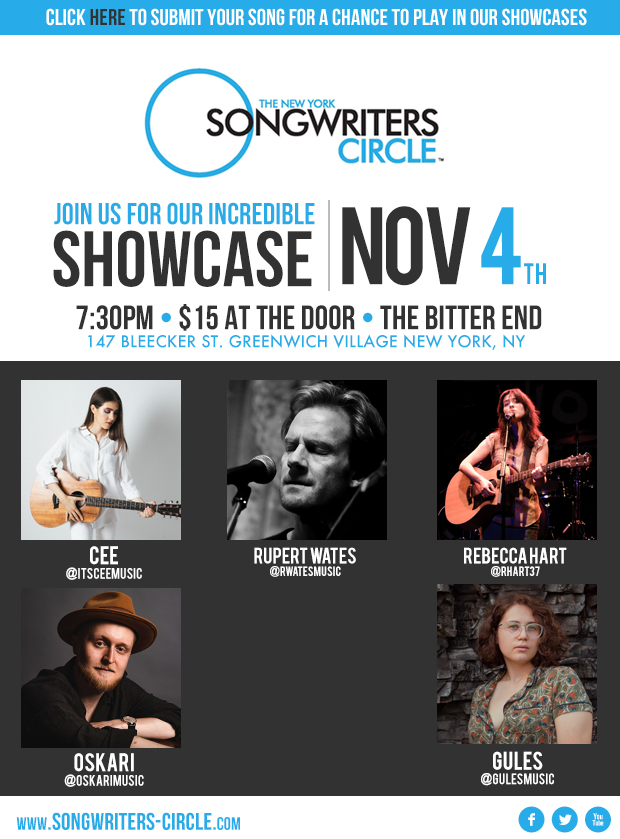 Join us Monday November 4th for another award winning showcase!
The evening will feature
GULES is a New York City singer/songwriter with a soulful jazz sound who's music has been compared to the smooth and captivating styles of Carole King and Amy Winehouse. GULES' music has brought her achievements like the legendary venues of Sofar Sounds and the NYC
Coffee Music competition, where GULES was awarded finalist of 2018! With everything she creates, GULES aspires to spark a commotion of emotions in all of her listeners.
Cee, a Swiss singer-songwriter, released her 1st EP "As I Keep on Dreaming", this summer at just 18. Composing on guitar, and recently on piano, she looks to give a pop vibe to her acoustic sound while talking about human relationships and the small complexities of life. Two of her tracks have been picked up by Swiss Public Radio.
Rupert Wates
'Rupert Wates was born in London and has been based since 2007 in New York City. He's won over 40 songwriting and performing awards and 35 of his songs have been covered by other artists. His material is acoustic, melodic art/folk – haunting songs that ring true'
Oskari Nurminen
Oskari is a Finnish songwriter, composer, and producer based in Brooklyn, NY. He recently graduated from NYU's graduate program in composition and is looking forward to a variety of exciting projects throughout the next year. Most importantly, he is releasing music under his name for the first time in six years this December.
Rebecca Lowe Hart Rebecca once accidentally won a comedy competition in Dublin Ireland while appearing as musical guest. True story. She is an actress, lyricist/librettist (sometimes composer) for theatre, and of course singer/songwriter based in NYC, performing frequently with and without the rest of her six-piece band. She is thrilled to be back at the NYSC.