Join us Monday Sept 9th for our fall showcase featuring top songwriting talent from NYC and beyond.
The Evening will feature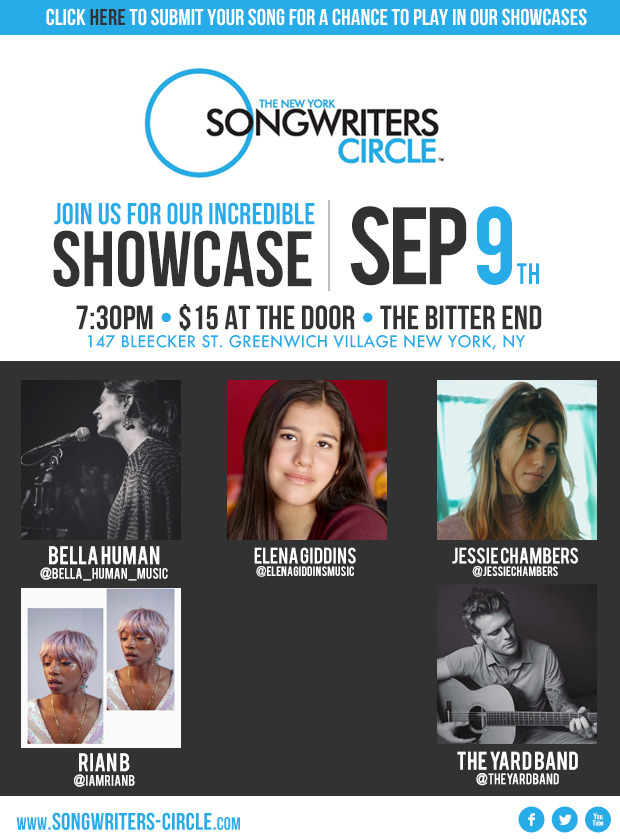 Bella Human
Hailing from opposite sides of the globe, Bella Human is a Dutch-South African singer, songwriter and pianist looking to transform the world around her through song. Her style is self-described as M&M – melancholy and moody, inviting her listeners to come and hang out in a musically shady and introspective place.
Jessie Chambers
Jessie Chambers is a singer-songwriter currently living in New York City. As a pop music artist, Chambers incorporates elements of dance, electro-pop, & pop-rock into her music. You can find original music from Chambers on Spotify, Apple Music, & more, as well as look forward to new music coming out soon!
Elena Giddins
Elena Giddins is a 15 year old singer-songwriter, dancer and actress. Her original song, "Addicted," composed for a teen songwriting competition sponsored by the Grammy Foundation's MusiCares charity earned her second prize earlier in 2019. Elena has had master class training with members of the casts of "Dear Evan Hansen" and "Hamilton." As a vocalist and dancer, she has performed at venues including Don't Tell Mama's, Carnegie Hall, Symphony Space and Madison Square Garden. Elena is grateful to her friends and family for their support and is very excited to be making her first appearance at The Bitter End with the New York Songwriters Circle.
Tyler Stahl Daniel Hass
"Tyler Stahl and Daniel Hass met in class while enrolled at the Juilliard School, they were assigned to perform an original composition by Daniel for the schoolboard and have been writing music and performing together ever since. Tyler has been working on "Songs from the Early Album" over the past year and is excited to perform the material at The Bitter End!"
Rian Barksdale
RianB is a Singer-songwriter from the Bay Area California. She has been in NY for the past three years chasing her dreams to becomes a signed recording artist. She has been performed at several local venues like Ivy house Studios & The Paper Box to name a couple. Her current music is a mix of R&B, Hip-Hop, Neo-Soul with an acoustic twist but her goal is to be a successful multi genre artist.