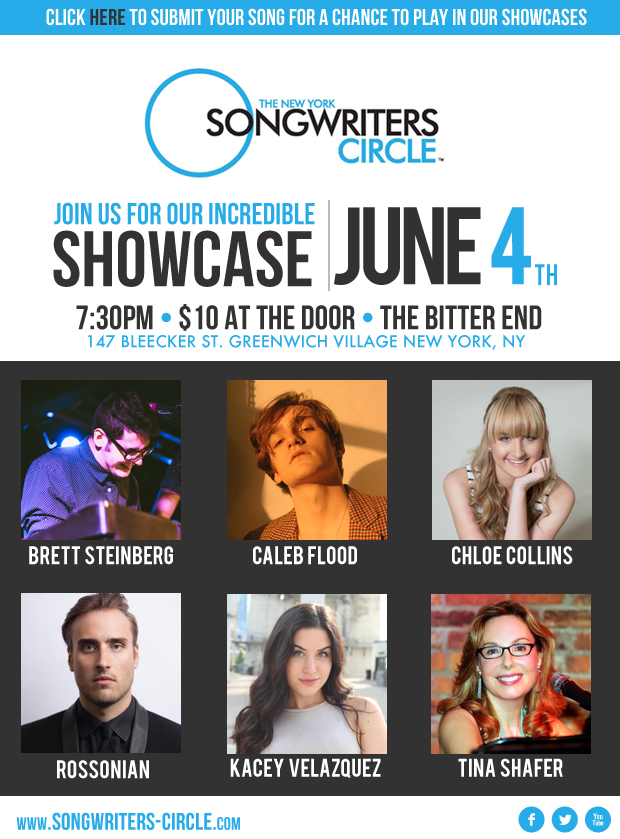 Join us Monday June 4th for our award winning
Singer Songwriter Series!
The evening will feature
Kacey Velazquez is a singer/songwriter and recording artist from New York City. She has been performing her original music at The Bitter End and across the city for more than a decade. Kacey attended LaGuardia High School for vocal performance and graduated Berklee College of Music with a music business degree. She currently lives in Nashville, where she continues to pursue her music career.
Follow Her – https://www.facebook.com/kaceyvmusic/
https://www.instagram.com/kaceyvmusic/
https://www.youtube.com/channel/UCN_DzqKLh2C2lVNXKmBCt
Brett Steinberg –
Brett Steinberg is an award winning songwriter who currently performs under his moniker, Kalimur. A native of Connecticut, he has toured the east coast, been featured on iHeart Radio and in The Huffington Post, and has released multiple records and a slew of singles under both Kalimur and his collaborative project, Chasing Moonlight. He has shared bills with Hall & Oates, NeverShoutNever, and The Rocket Summer, and has accumulated hundreds of thousands of streams. His sound could be described as pop/rock with electronic influence, but it has constantly evolved over the past eight years and continues to do so.
Caleb Flood Goldstick
Watch for Caleb's second release coming soon!
Caleb has been writing music since he was 8 and performing live since he was 11. A happy, upbeat 16 year old, Caleb tends to write and sing about serious themes.
From NY to LA, Minneapolis to Hartford, Brighton, England, to The Hague in the Netherlands, Caleb has performed before eager fans from 12-81!
Since July, 2011, Caleb has been working with famed producer, PJ Bianco who is known most notably as the writer and producer for the Jonas Brothers, Demi Lovato and Miley Cyrus's hit songs, among several other artists.
"Falling Over You," a song Caleb wrote when he was 11, hit #1 on the Tween Pop Radio charts in 2012 and abroad on popular radio in Australia in 2012. Caleb was voted #1 up and coming artist of the year for 2012 in Australia.
On his newer You Tube channel, OfficialCalebChannel, his anti-suicide song, "More Time" has garnered over 2.34 million views. His song, "We Run" has nearly 1.1 million views.
Chloe Collins –
Chloe started singing when she was just a toddler, people took notice, and she has never stopped. When she was 8 she learned a few guitar chords to a Hannah Montana (Miley Cyrus) song that she loved and wanted to learn how to play. She took to the guitar quickly and in just a few weeks was singing and learning to play songs from her idols like Taylor Swift and Katy Perry. Soon Chloe started writing songs, and then started performing at talent shows and coffee houses. One of Chloe's songs entitled "I've Had Enough" was used in the ABC/Family TV show "The Vineyard." Chloe's latest recording is "Upside Down."
Tina Shafer –
Love is on the Way -Celine Dion 33 million selling album "Let's Talk About Love" Centerpiece song for Bette Midler's 100 million grossing film "The First Wives Club" Flower in The Rain – Sheen Easton and theme song for the new "Outer Limits" tv series The Way That you Love Me- written with Albert Hammond for "Days of Our Lives" Above The Band "Phoebe Snow".
The New York Songwriters Circle has been heralded as one of the best showcases in New York for discovering talent. "Billboard Magazine"
Some of the talent that has come through the Songwriter's Circle over the past 18 years :
Multi -platinum selling artist: Vanessa Carlton Carlton was a voice student of Tina's and Tina booked her at The Songwriter's Circle. She was signed directly from The Circle and went on to have a huge hit " A thousand Miles" and "Ordinary Day".
Grammy award winning artist Norah Jones, who came through Tina's Voice student, Jesse Harris.
Jesse, a regular at the Circle, went on to win a Grammy for his hit song "I Don't Know Why I didn't Come" (On Norah Jone's first record)
Rossonian –
Cosmic and sensual adventure grooves from Brooklyn, NY by way of Minneapolis, MN and Denver, CO. Like the smoke that rises from manhole covers on cooler city mornings you are afraid it might smell, but once you get a little closer you realize there is something about it that you kind of like, even if you can't really say why.