The New York Songwriter's Circle is thrilled to take part in this year's World Pride with an exclusive Singer/Songwriter's night held at the historic Bitter End featuring Daniel Joseph Baker, Logan Hart, Nick Deutsch, Julie Gold, Katie Buchanan, Kumbaya, Brian Faulduto and Michael Blume.
Hosted by Platinum Selling Singer/songwriter Tina Shafer, since 1991 The Circle has featured such notable artists as Norah Jones, Billy Porter, George David Weiss, Lisa Loeb, Judy Collins, Phoebe Snow, Rob Mathes, Peter Zizzo, Jesse Harris, Vanessa Carlton, Gavin DeGraw, Lana Del Rey, Ian Axel and more.
Join us for an amazing show dedicated to supporting great, original songs.
100% of ticket proceeds will help fund The Trevor Project, a nonprofit that provides crisis intervention and suicide prevention services for LGBTQ youth.
Date: Thursday, June 20th, 2019 7pm
Location
The Bitter End
147 Bleecker St, New York, NY, 10012
Tickets Below!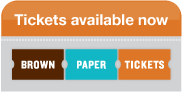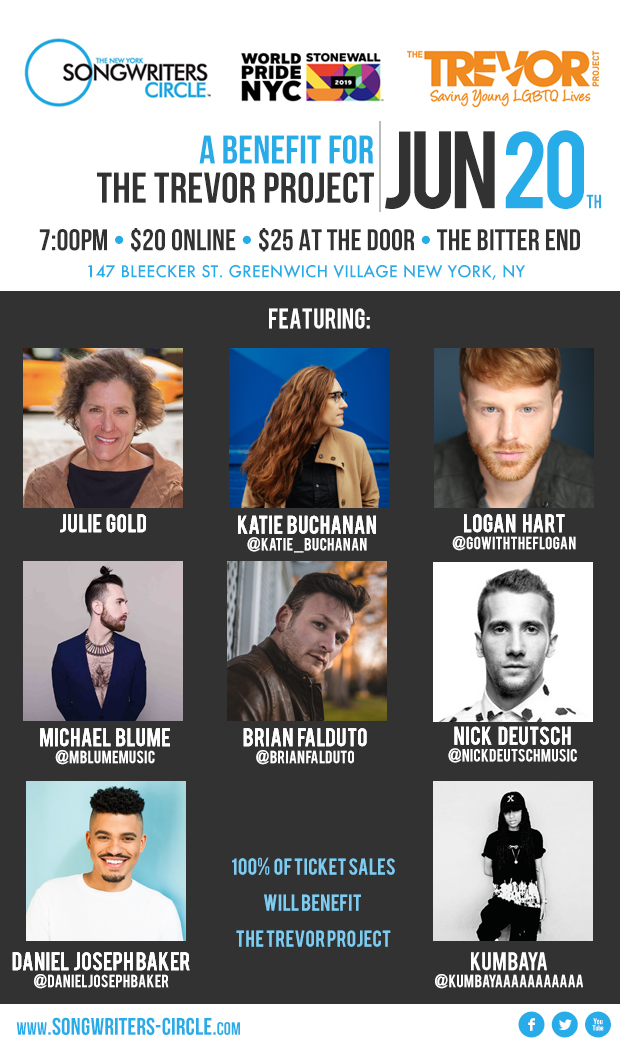 Julie Gold
Julie Gold (born February 3, 1956) is an American singer-songwriter. She is best known for her musical composition "From a Distance," which became a hit for Bette Midler and won a Grammy Award for Song of the Year in 1991.
"From a Distance" has millions of airplays. It has been recited into the Congressional Record by Senator Barbara Boxer, recorded internationally and translated into many languages. It has been illustrated as a childrens book and machined into music boxes. It has been quoted in books, calendars, greeting cards and the wake-up call for astronauts in the Mir space station the first time Americans worked with Russians in space. A wide range of recording artists have covered it, including Jewel, Elaine Paige, Cliff Richard, the African Children's Choir, Judy Collins, the Byrds, Fairport Convention and Donna Summer.
Nanci Griffith, the first to record "From a Distance", has also recorded Gold's songs "Heaven", "Southbound Train", "Good Night New York" and "Mountain of Sorrow". Other artists who performed Gold's songs include Patti LaBelle, Patti LuPone, Lea Salonga, and Andrea Marcovicci. Her song "Thanks to You" was featured in the 1993 film Andre, and "Dream Loud" was featured in the 2002 film Unfaithful.
Gold was born in Havertown, Pennsylvania and later moved to Philadelphia, Pennsylvania. She graduated from the Philadelphia High School for Girls in 1974 and from Temple University in 1978. She appeared as a featured performer in many Philadelphia area coffee houses and entertainment venues, including the Main Point and Bijou Cafe. From 1990 to 1994, she was a member of Four Bitchin' Babes, with Christine Lavin, Megon McDonough and Sally Fingerett.
Gold's maternal grandparents and mother were Jewish immigrants from Russia in the 1930s. Her paternal Jewish grandparents came from Romania. Her Orthodox mother and Conservative father were a founding couple in Philadelphia's Reform Temple Beth Elohim. Her Jewish background has influenced her songs.
Daniel Joseph Baker
Daniel Joseph Baker is a talented singer/musician who got his start on NBC's "America's Got Talent". His vivacious personality, undeniable talent, and personal story of overcoming life-long bullying connected with television audiences all over the world and gained him thousands of fans. Sharon Osbourne called him a star! Since making it all the way to the semi-finals in Season Six of the show, he's been lucky enough to travel the country and share his talents with many diverse audiences. & He's proud to have amassed a combined social media following of over 20,000 fans. In 2016, Daniel released his self-titled debut EP, a collection of five original songs, available on all digital and streaming platforms. The EP features the singles "Well" & "Live Out Loud" both of which have music videos that can be streamed on YOUTUBE. He just finished touring the world with the Broadway Smash-Hit KINKY BOOTS!
Kumbaya
Drummin, hummin, and relaxin all cool –
you know, playin some beats she made outside of school, KUMBAYA bring the spirit of J Dilla in production and the scheme of a poet in rhyme, rap and soul like no other. Producing music, rapping lyrics all while beating a drum, she is a multifaceted creative, growing into one giant energy. www.soundcloud.com/kumbaya
Logan Hart
Logan Hart (he/him) is an NYC based Singer/Actor. Over the past two years, he has been involved in the development of Alanis Morissettes new musical Jagged Little Pill, which will open on Broadway this Fall. He can be heard on the sneak peak of All I Really Want from the Original Cast Recording with Atlantic Records (streaming and additional information available at www.jaggedlittlepill.com) Logan recently wrapped filming What is Life Worth, an upcoming feature film staring Michael Keaton and Stanley Tucci. Additionally he performed for 3 years with the Book of Mormon National Tour. Other credits include Poster Boy (Roundabout Theatre Company), Next to Normal, High School Musical, and Altar Boyz, along with numerous concerts at 54 Below, Rockwood Music Hall and recordings for promotional and developmental work. For more info, visit www.loganhart.net.
Brian Falduto
Brian Falduto (Country/Pop/Folk) is an actor, songwriter, & life coach (@thegaylifecoach). He is best known for his role in the 2003 film School of Rock. In June 2018, PrideLife Magazine named Brian one of "20 most influential, outspoken, & optimistic individuals on the planet." His 1st ever studio album "Stage Two" is out now & available digitally everywhere. www.brianfalduto.com @brianfalduto
Katie Buchanan
Katie Buchanan is an indie-pop singer/songwriter and producer. She plays guitar loudly, drinks whiskey slowly, and writes songs that beg for a second listen. Her new EP, The Over Under, drops July 2019. As the sole writer, performer, and producer of her work, Buchanan is a strong new voice in the ongoing call for increased female authorship at all levels of music. In addition to her own releases, she produces albums for other artists, most commonly women, creating spaces for young female artists to learn the language of the studio and to develop the tools needed to navigate the music industry. In the last year, her workboth as producer and artisthas garnered over 750k plays on Spotify alone.
Nick Deutsch
Nick Deutsch is a indie pop Singer/Songwriter from Wilmette Illinois. He has shared the stage with established singer-songwriters Ian Axle, (Great Big World) Billy Porter (Kinky Boots) Rob Mathes (Sting), Lizanne Knott, Andrew Fortier, Ari Zizzo and Jillette Johnson as well as recorded with American Idols finalist Marissa Pontecorvo. Songs off his EPs Crazy Ride and Heartsaver have let to nominations for Best Pop Male Vocal (2013 IMEA Awards), The Great American Song (2013 POP Category) and featured interviews with Pop Vulture Magazine, Apple Inc. the Huffington Post and Buzzfeed. Nick was the recipient of a 2011 Philadelphia Songwriter's Project Award, a 2011 New York Songwriter's Circle Award, a 2014 American Songwriters Award Nomination, a 2014 International Songwriters Contest award, 5 UK songwriting semi-finalist nominations a 2014 ISC award, an International Vocalist Runner Up Nomination, two IMSTA New York Songwriter award winner and his lyrics (Crazy Ride/Hooking Up) have been printed in the nationally published American Songwriter magazine (May 2014/August 2017). Additionally his music has been featured on nickelodeons Jagger Eatons Mega Life and TV Lands Younger.
Michael Blume
Michael Blume is a NYC-based artist whose music blurs the lines of hip-hop, soul, and pop. After his debut single Manufactured Love gained industry attention in 2015 Blume developed his unique style leading his 11-piece band around NYC venues and touring the country. Landing spots at major festivals such as Governors Ball, Lollapalooza, Bonnaroo, and LA Pride, Blumes bold live performances have helped him gain a burgeoning national spotlight. Blumes lyrics are are queer, progressive, and inquisitive; they ask listeners to think outside the box on questionable of identity, love, and politics. His latest project cynicism & sincerity came out last year and he is currently writing for the next one. Follow Michael Blume on social media @mblumemusic.