Tickets Available Via Eventbrite –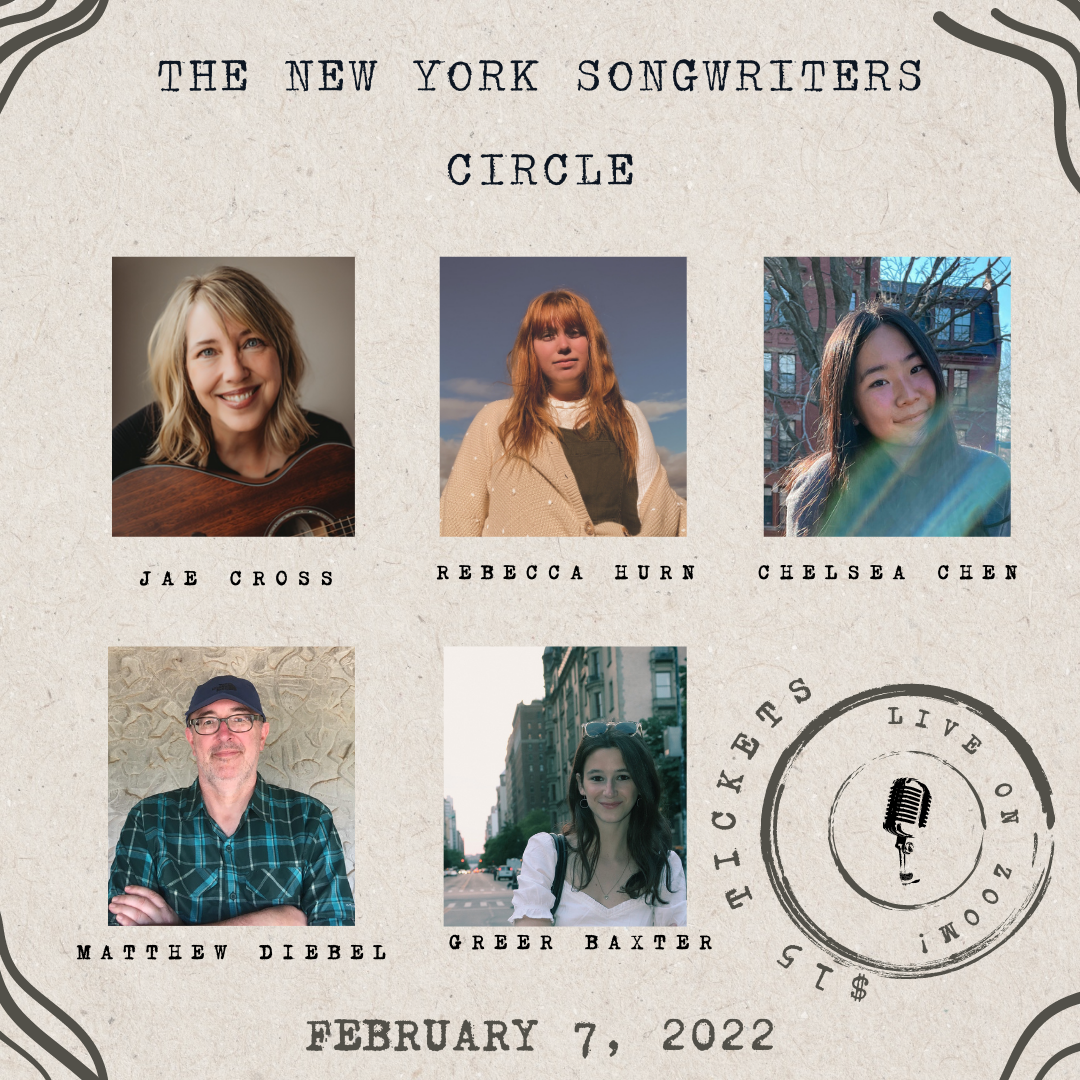 Matthew Diebel – was born and raised in the South (southern England, that is). For some reason, he moved to the Ozarks in the 1980s and got to jam with some notable bluegrass musicians before shifting to the East Coast. An obsessed fan of George Jones — the world's greatest singer — he has written songs and performed since he was a tween.
Chelsea Chen – Chelsea is a singer-songwriter from NYC who has been writing lyrics and melodies since her early teens. From personal mentors such as Stew to a diverse set of musical influences ranging from classic rock to indie folk, she has developed a passion for storytelling for a wide audience. Chelsea is currently finishing up her last semester at Harvard where she studies math and music, and plans to move back to NYC in the fall to continue co-writing and collaborating with new folks. Stay tuned through her Instagram for new songs!
Jae Cross
Jae Cross is a mediator by profession, and in her work helps people de-demonize one another so that they can recognize and honor difference. She sees music as an extension of her work in conflict resolution, and uses the guitar and words to express how we all struggle to co-exist in our world. During COVID Jae has been writing lots of new material, and working toward placing her songs in film and television. She is currently in the studio working on a new EP, to be released in June 2022.
Rebecca Hurn is an award winning folk-pop singer-songwriter from South Wales, UK. At such an early start to her career Rebecca has already reached international success with her music propelling her to showcase in major cities such as London and New York. After the release of her most recent Top 50 EP 'Waves', Rebecca was named as 'Best Solo Act' at the Cardiff Music Awards where she also won 'Best Single' for Top 40 hit 'Lifeline' in 2017. Rebecca's voice has been described as a 'national treasure' (BBC Wales) and holds thought provoking lyrics with beguiling melodies.
Social media:
Facebook – (@rebeccahurnofficial)
https://www.facebook.com/rebeccahurnofficial/
Instagram – (@rebeccahurn)
https://www.instagram.com/rebeccahurn/?hl=en
Greer Baxter:
Greer Baxter is a 23 year old published singer-songwriter recently had her song "City Limits" nominated for the Nashville Songwriter Association top 40 and was commissioned to write songs for American Idol finalist Alyssa Raghu, British pop singer Sonna Rele, and Grammy nominee Thana Alexa. She also wrote the song "Line in the Sand" for Mandy Gonzalez, star of Broadway's Hamilton, which was then used by UNICEF for their social media campaigns. She gave a TEDX talk at the University of Chicago about the nexus of poetry and melody and the creative process of songwriting and performs her original songs with Sofar Sounds, the New York Songwriters Circle, Breaking Sound, The Bitter End, and many more.